GamersNexus Tear-Down Toolkit for PC Building & Maintenance - 10 High-Quality Tools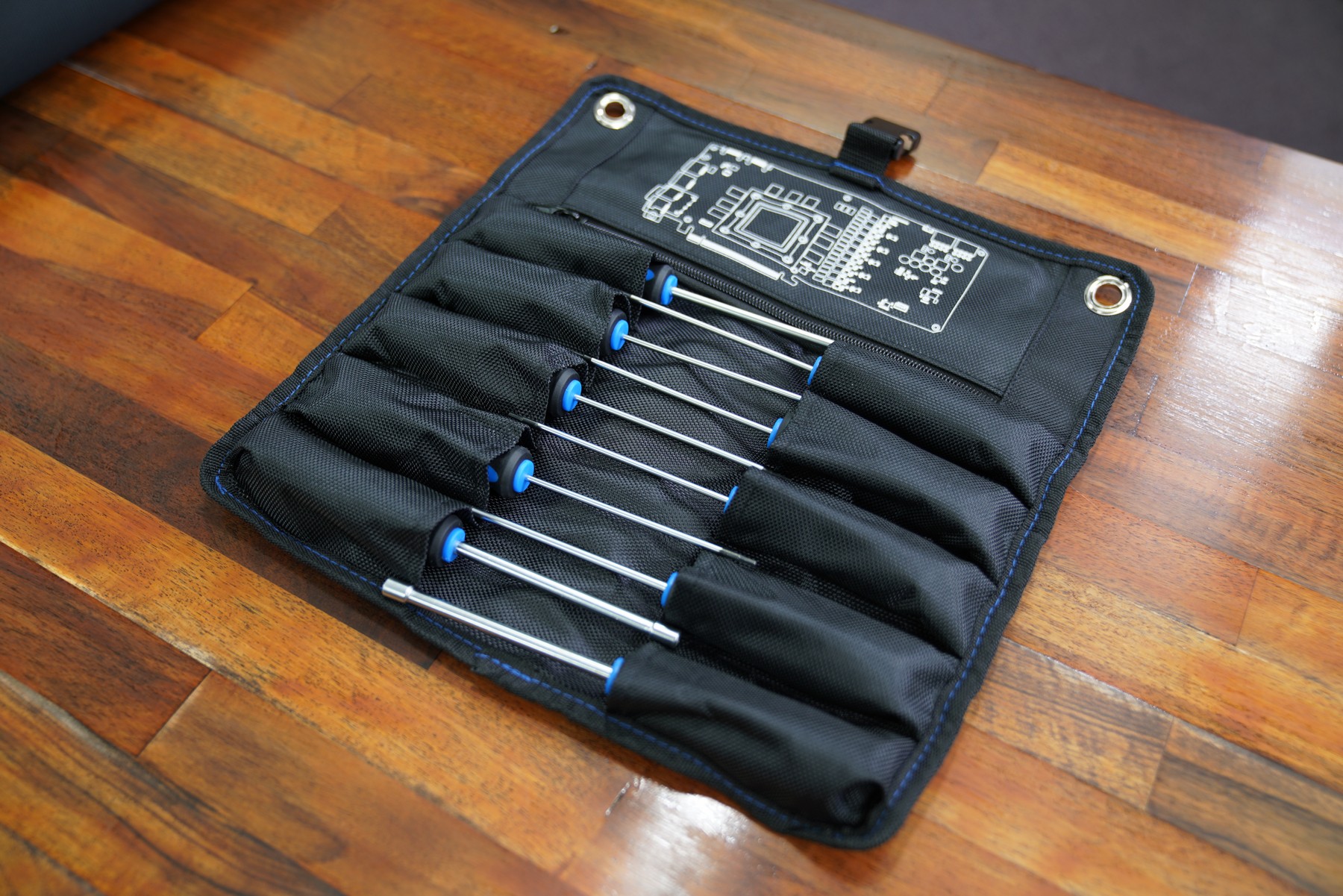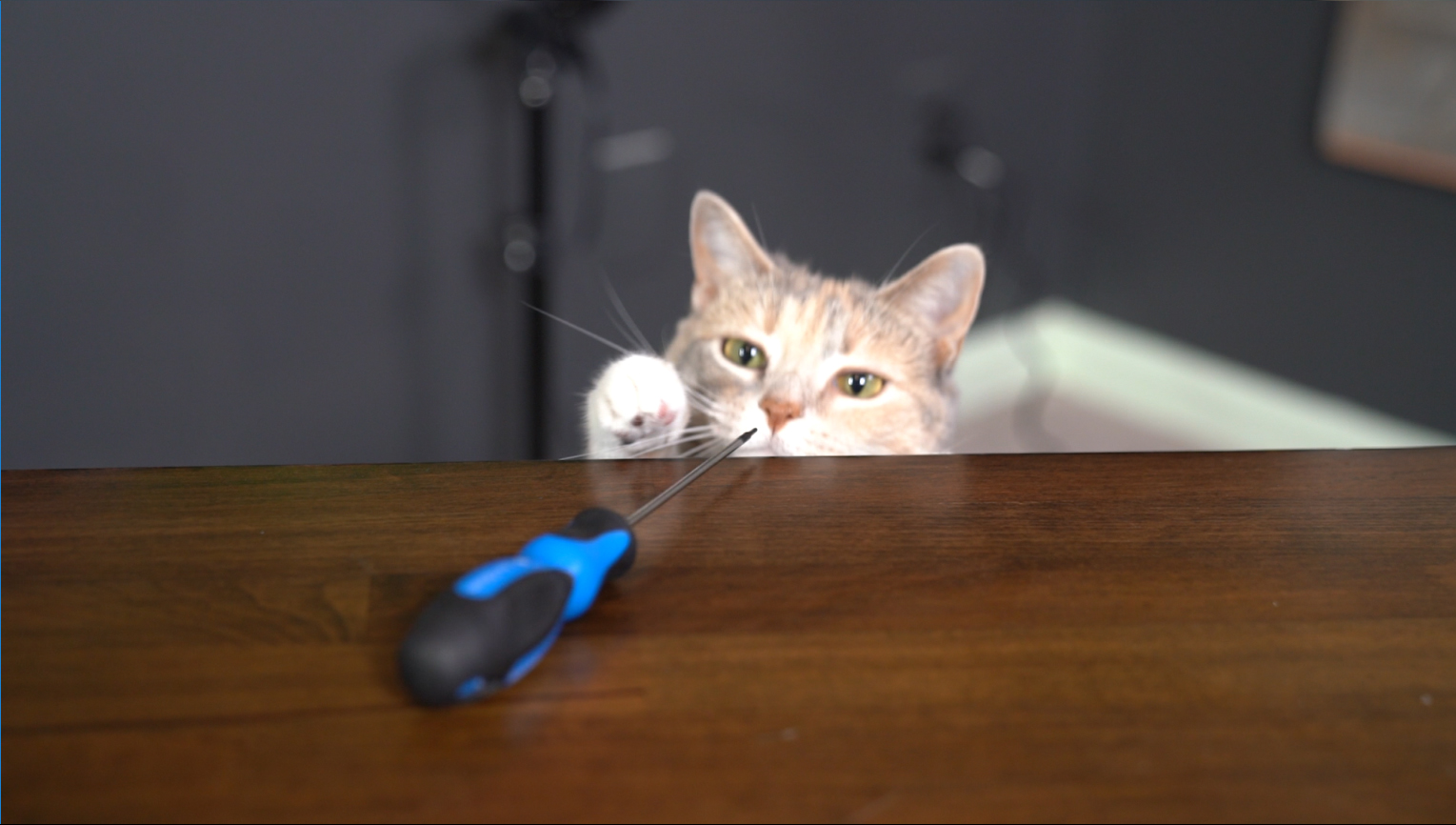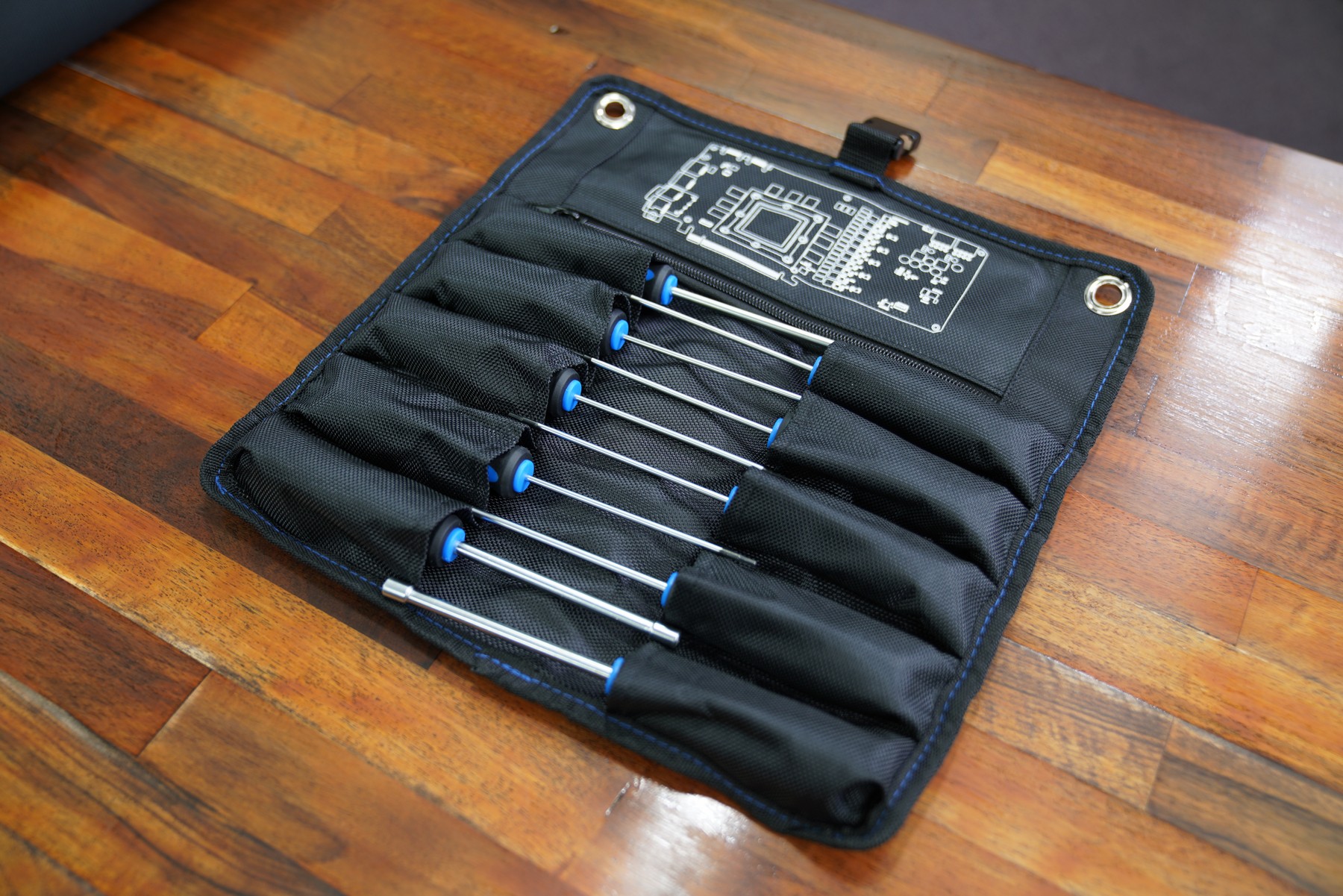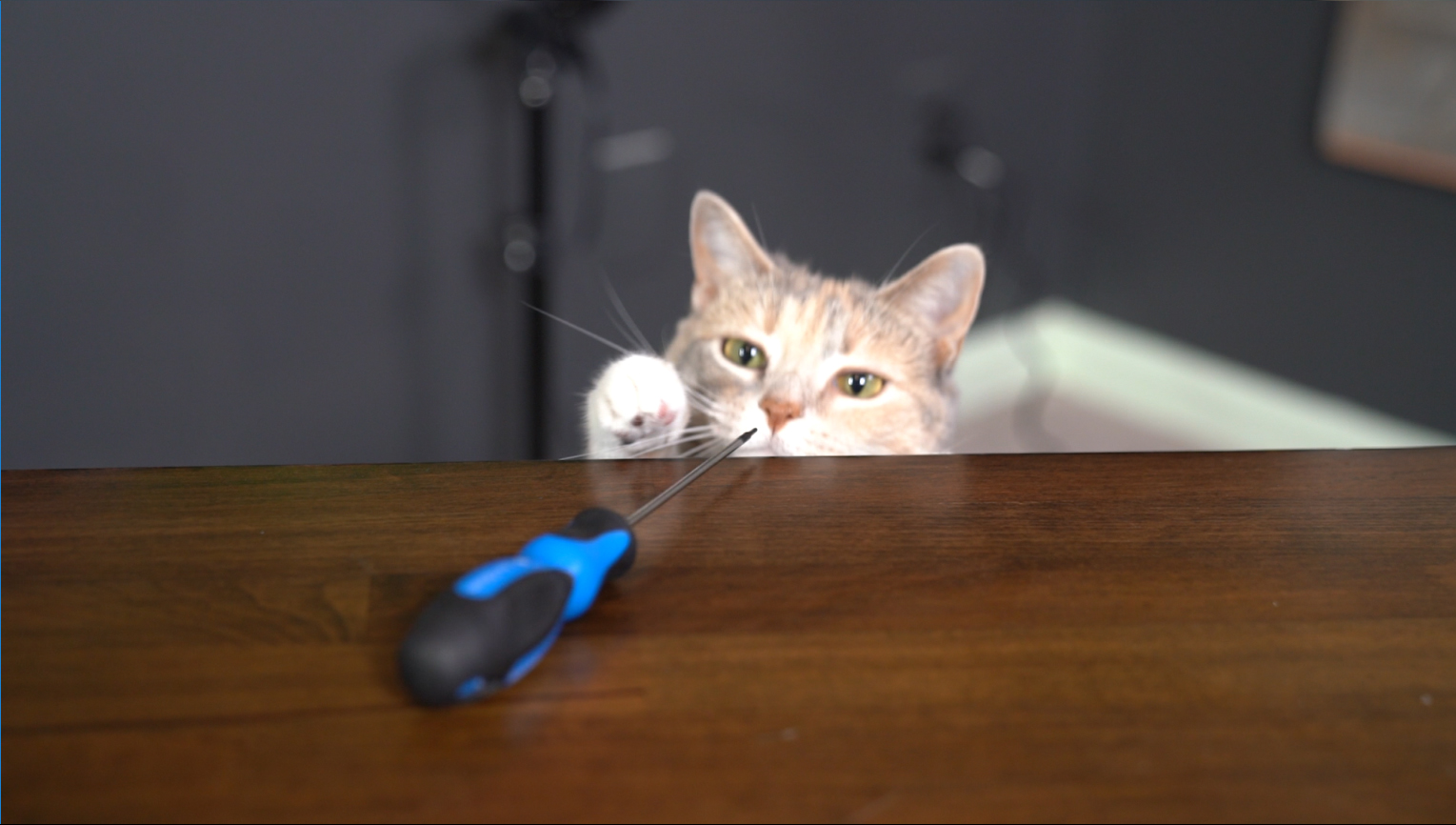 GamersNexus Tear-Down Toolkit for PC Building & Maintenance - 10 High-Quality Tools
The first GamersNexus tear-down toolkit took a year of development to manufacture, with that time going into tuning and dialing-in tool quality for long service life. These tools are made out of a CRV steel (Chromium-Vanadium) for strength, with the two hex heads made of A3 steel to allow our customization. The GN tear-down toolkit has custom-made, high-quality tools for PC component maintenance, disassembly, and PC building, and is ready to disassemble most video cards for GPU re-pasting or water block installation (check the tools list below to see what's included and ensure compatibility with your video components). We made custom molds for the tool rods, opting for a 100mm (~3.9in) rod length for the best balance of weight and torque.
Included Tools
Phillips PH1

Phillips PH0

Phillips PH00

Phillips PH000

Custom Hex Head 5.0mm (ground-down exterior for capacitor clearance)

Custom Hex Head 4.0mm (ground-down exterior for capacitor clearance)

Allen 1.5mm

Allen 2.0mm

Allen 2.5mm

Torx 6
Additional features and information detailed below.
The GN Toolkit is available and shipping now in both standard and autographed variants.
The rubberized handle ensures good grip for the user and also has hanger holes to rest the tools on a pegboard. Alternatively, you can keep the tools in the included, custom-stitched bag that we made. Each tool fits snugly within the bag, inside of which can be found a zipper pouch with three quick reference cards for common video card disassembly processes. The zipper pouch is conveniently available for additional thermal pads, screws, or spare parts that you may want to keep with the tools. Atop the zipper pouch is a video card tear-down diagram made by GN, offering a stylized and accurate look at video card components. Externally, the pouch is secured with a buckle and embroidered with the full GamersNexus logo. Two hanger holes are present on the bag so that it can be easily stored on a pegboard.
These tools were selected for wide compatibility with most video cards for easy disassembly and maintenance, like for GPU re-pasting or water block installation. In addition to the tools, three quick reference cards are included: (1) RTX Reference disassembly guidance (works for 2080 Ti, 2080, and 2070), (2) Vega reference disassembly guidance, and (3) Board Partner generalized help that applies to most add-in board cards.
The goal was to focus on high-quality tools that have a long service life while also improving usability. All tools are custom-made for this toolkit. We made new molds for the rods, which are all 100mm length for a good mix of balance, torque, and grip. Each of the tool types is detailed above.
PEGBOARD-READY
We use tools every day in the lab. With so many of our team members accessing the same screwdrivers, we've learned that pegboard-mounting tools makes for fast organization that is easily restored when cleaning-up. Our PC building toolkit comes with holes in the bag and in the driver handles for easy mounting on standard pegboard hooks, keeping tools within reach.
PRE-MAGNETIZED
To reduce the chance of dropping screws into a freshly re-assembled video card, the GN toolkit comes with the metal tips pre-magnetized on 8 of the 10 tools. The other two are hex drivers, which we've specifically left unmagnetized so that screws don't get stuck inside of the hex head. This solves two common inconveniences in PC component disassembly and PC assembly. The magnetization makes it easy to lift screws out of their threads once loosened, at which point they can be tracked on the GN Modmat grid.
EASY TRANSPORT
Being on the road has taught us the value of easily stowed and carried tools. The GN tool bag can fit 10 drivers (all included in the GN toolkit) and also has a zipper pouch for spare parts — like those screws you forgot to put back in, extra thermal pads, or tubes of thermal paste — and is easily rolled and buckled for secure transport.
RUBBERIZED GRIP
Well-crafted driver heads with high-quality, strong metals ensure a long-lasting tool, and the handle and rubberized grip make for comfort and a well-balanced weight. The 100mm driver shafts and 100mm handle provide a good mixture of torque and convenience, helping to reduce the risk of stripping screws that may be embedded a little too tightly. Above, you can also see a close-up of the pegboard mounting hole, sized to fit common pegboard stand-offs and hooks.
TOOLS FOR PC BUILDING & COMPONENT DISASSEMBLY
While a Phillips head screwdriver is the primary tool for building a computer, modifying video cards for water cooling, cleaning dust that's deeply ingrained in components, and re-applying thermal paste to old video cards might require a few additional tools. The GN Tear-Down Toolkit comes with some of the most commonly needed tools for component disassembly, including the tools needed to take apart NVIDIA RTX™ 2080 Ti, RTX™ 2080, and RTX™ 2070 reference ("Founders Edition") video cards. Our toolkit also includes everything necessary for disassembly of AMD Radeon™ Vega 56 and 64 reference video cards. Other video cards are also supported, as most use the same tools found in this kit. We went the extra mile on validating the tools, even custom grinding-down the exterior of the Hex 4.0 and 5.0 driver heads to allow clearance from small capacitors on the boards.
Related Product: GN Medium Anti-Static Modmat
© GamersNexus, LLC 2019. All rights reserved. GamersNexus and the GamersNexus logos are trademarks of GamersNexus, LLC.
RTX is a registered trademark of NVIDIA Corporation. Radeon is a registered trademark of Advanced Micro Devices, Inc. All other trademarks are the property of their respective owners.